20 Gorgeous Wedding Venues in the West of Ireland
07/25/2017 Looking for a fab wedding out wesht? With stunning beaches, unspoilt landscapes and everything from enchanting castles to quaint country houses dotted across the countryside, couples looking to tie the knot in the West of Ireland have some fabulous options! And when it comes to an incredible backdrop for your wedding snaps, it doesn't get much better than some of the rugged terrain on offer in the likes of Galway, Clare, Mayo and Sligo. Check out some gorgeous wedding venues in the West of Ireland below.
{Quick links}
Exclusive Venues | Alternative Venues | Hotels | Castle Venues | Country Houses | City Venues
Wedding Venues in Mayo

McWilliam Hotel, Kilcolman Rd, Claremorris, Co. Mayo
Guest capacity: 450 | View Profile
Couples that choose Mayo's beautiful McWilliam Park Hotel can look forward to the VIP treatment on their Big Day with a gorgeous red carpet arrival and a warm welcome. This modern four-star hotel boasts a luxurious candlelit ballroom which can host up to 450 guests in comfort and style while the elegant John Gray's Restaurant is perfect for more intimate affairs.


Belleek Castle Hotel, Ballina, Co. Mayo
Guest capacity: 200 | View Profile
If you're after a romantic, castle experience, the enchanting Belleek Castle Hotel is located on 200 acres of woodland and dates back to the early 1800's. Their Medieval Banqueting Hall, located in the stone arched vaults, which formed part of the original Belleek Abbey in the 13th century is perfect for larger affairs up to 200 guests while their Library restaurant is ideal for smaller parties.


The Lodge at Ashford Castle, Cong, County Mayo
Capacity: 186 | Visit Profile
Winner of the 2016 Exclusive Wedding Venue of the Year, the stunning Lodge at Ashford Castle stands secluded on the Lisloughrey Quay in Cong, County Mayo and boasts commanding panoramic views of Lough Corrib. The breathtaking ballroom is brimming with natural light, can accommodate up to 186 guests and has gorgeous views of the lake. Smaller more intimate celebrations can also be catered for.
Wedding Venues in Clare

Armada Hotel, Spanish Point, Co. Clare
Guest capacity: 380 | View Profile
Perched on a clifftop overlooking the Atlantic Ocean, the Armada Hotel provides the most picturesque setting for a luxurious yet homely wedding and is perfect for couples looking to get married with the ocean as their backdrop. Wedding receptions are held in the recently refurbished Atlantic Suite which boasts floor to ceiling windows and magnificent sea views.


AnnaCarriga, Killaloe, Co. Clare
Guest capacity: 300 | View Profile
Overlooking the crystal clear waters of Lough Dergh, AnnaCarriga is a romantic, lakeside resort. Couples can look forward to celebrating at the idyllic glass front Lakeshore Pavillion that overlooks the lake. Weddings can also avail of the AnnaCarriga lake boats, marina and jetties on the day so you can truly appreciate all this charming spot has to offer.


The Killaloe Hotel & Spa, Killaloe, Co. Clare
View Profile
Nestled in beautiful woodlands overlooking Lough Derg, Clare's Killaloe Hotel is an idyllic spot for weddings. They have a strict 'one wedding a day' policy so you can be sure you have their undivided attention and pride themselves on creating a unique and personalized experience. Couples are spoilt for choice when it comes to photo locations with their Marina Gardens, the pergola and lakeshore.


Lakeside Hotel, Ballina/Killaloe, Co. Clare
Guest capacity: 270 | View Profile
Located on the banks of the river Shannon overlooking the twin towns of Ballina and Killaloe, The Lakeside Hotel is a stunning setting for weddings. Their Shannon suite is flooded with natural light and can cater for up to 250 guests while their award-winning landscaped gardens are the perfect spot for fab wedding photos. They pride themselves on pulling out all the stops with just one wedding a day.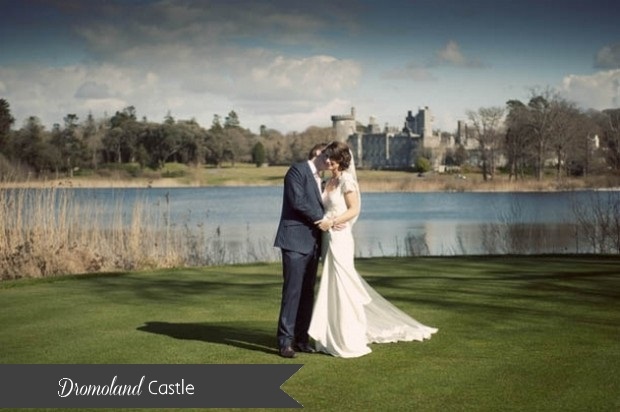 Dromoland Castle, Newmarket-on-Fergus, Clare
Guest capacity: 300 | View Profile
Built in the late 16th century, Dromoland Castle is a luxurious fairy-tale venue set on a 450 acre estate. The majestic Brian Boru Hall is a romantic setting for larger weddings with arched balconies, heraldic tapestries, elegant chandeliers and rich wood paneling while more intimate celebrations can enjoy the elegant surroundings of The Terrace Room and The Drawing Room.
Photo by Studio33Weddings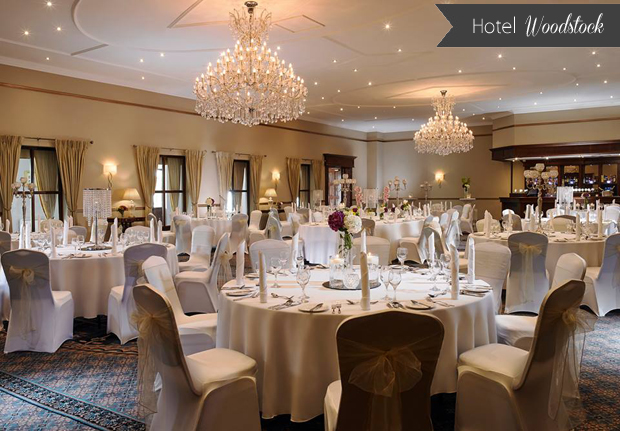 Hotel Woodstock, Shanaway Road, Ennis, Co. Clare
Guest capacity: 220 | View Profile
Situated on 155 acres of beautiful countryside, Hotel Woodstock can be found in the market town of Ennis, Co. Clare. Couples can look forward to a red carpet welcome and a luxurious setting for their Big Day - the elegant ballroom can cater for up to 350 guests. They offer all inclusive-packages that can be tailored to your requirements and have a one wedding a day policy.


Treacys West County Hotel, Limerick Road, Ennis, Co. Clare
Guest capacity: 500 | View Profile
Contemporary and relaxed, Treacys West County Hotel in County Clare is conveniently located in Ennis, Co. Clare. This charming hotel is renowned for its excellent service and delicious food and can cater for up to 500 guests. 2017 couples can look forward to availing of their new, specially commissioned wedding garden - the perfect backdrop for gorgeous wedding photos.
Wedding Venues in Sligo

Castle Dargan, Ballygawley, Sligo
Guest capacity: 300 | View Profile
Set within the confines of a stunning 170-acre country estate with fresh water brooks and rolling hills, the 4* Castle Dargan dates back to the 18th century. Castle Dargan's luxury wedding suite, the beautifully appointed Ormsby Room, has floor to ceiling windows with stunning panoramic views of the countryside and golf course. The venue prides itself on its superior attention to detail, excellent cuisine and warm, friendly atmosphere.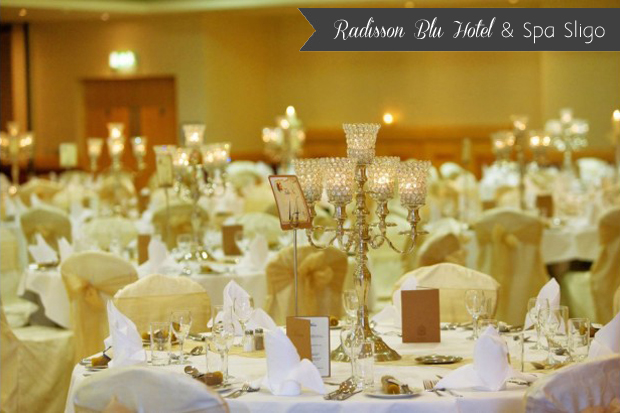 Radisson Blu Hotel & Spa, Ballincar, Rosses Point Road, Sligo
Guest capacity: 400 | View Profile
Nestled between the beautiful vistas of Sligo Bay and Benbulben Mountain, the 4* Radisson Blu Hotel & Spa is a contemporary, luxury hotel 5 minutes from Sligo town. They offer all-inclusive packages with an extensive range of decorative items included to ensure your planning is stress free. And their dedicated coordinator is on hand every step of the way to ensure your dream wedding is just that.


Markree Castle, Collooney, Co. Sligo
View Profile
Set in a secluded 500 acre estate in County Sligo, Markree Castle is the ultimate in romantic, Victorian style luxury. Lovingly restored, the castle retains some stunning features. Couples can exchange vows in the castle's original Victorian Gothic chapel before retiring to the striking gold and duck egg blue Grand Golden Ballroom for a night of fine dining and dancing. Markree Castle can host up to 150 guests.


Sligo Park Hotel, Pearse Road, Co. Sligo
Guest capacity: 340 | View Profile
Located on the edge of Sligo town in the heart of Yeats' Country, the Sligo Park Hotel is set in a quiet parkland with lots of stunning scenery on its doorstep. The airy and spacious Sligo Park Suite can host 340 guests and boasts floor to ceiling windows with an abundance of natural light. The hotel has a range of attractive packages with lots of little extras included such as chair covers and a range of centrepieces.
Photo by Sasfi Hope-Ross
Wedding Venues in Galway

Meadow Court Hotel, Lough Rea, Co. Galway
View Profile
Galway's award-winning Meadow Court Hotel is a charming family run boutique hotel tucked away in the Loughrea countryside. Guests can look forward to a beautiful, homely setting and the finest cuisine and the dedicated team are on hand to help you with all the details. Their beautiful gardens are the perfect spot for all your wedding photos or if you're after a lakeside setting, Loughrea Lake is just two miles away.


Delphi Resort & Spa, Leenane, Connemara, Galway
Guest capacity: 250 | View Profile
Surrounded by the majestic Mweelrea and Twelve Bens mountain ranges and set within 300 acres of forest, the breathtaking Delphi Resort & Spa is located in Connemara in Co. Galway. The resort's rugged, unspoilt scenery is the perfect backdrop for endless photo opportunities. Delphi prides itself on its personalised approach with tailored packages - you can also book the venue on an exclusive basis.


Clayton Hotel Galway, Ballybrit, Galway
Capacity: 500 | View Profile
The stylish and contemporary Clayton Hotel is a gorgeous four star venue close to Galway city that can cater for up to 400 guests. Weddings are held in the Clayton Ballroom, on the first floor of the hotel, which is bathed in daylight, has two private bars and a portable dance floor and stage. The Clayton Hotel prides itself on its professional service, exquisite cuisine and acute attention to detail.


Galway Bay Golf Resort, Oranmore, Co Galway
Capacity: 220 | View Profile

The spectacular Galway Bay Golf Resort on the Wild Atlantic Way is an idyllic setting for weddings. The 11,000 sq ft Clubhouse overlooks the 18 hole golf course and has fab views of Galway Bay as does the Rinville Point Restaurant and function room which has taken full advantage of the gorgeous ocean views on offer and has beautiful modern furnishings. It can cater for up to 200 guests.


Connemara Coast Hotel, Furbo, Galway
Capacity: 300 | View Profile
With its spectacular views over the Connemara Coast and rugged unspoilt scenery, the Connemara Coast Hotel is a fabulous setting for weddings and just 10 minutes from Galway city. Weddings are held in the Aran Suite which is bathed in natural light and has views of Galway Bay and the Aran Islands. The hotel offers tailor-made wedding packages where every little detail has been considered from flowers to table plans.


Galway Bay Hotel, Salthill, Galway
Guest capacity: 340 | View Profile

With its stunning sea views, Galway Bay Hotel is a fabulous option for couples looking for a picturesque venue in the west with endless photo opportunities. Couples have a choice of two spacious ballrooms for their celebrations, the Lettermore and Ballyvaughan Suites, both of which enjoy stunning views of Galway Bay and the Clare hills. They have a one wedding per day policy.

About This Author
weddingsonline was launched in 2000 and has since become Ireland's most loved wedding community, connecting brides and grooms-to-be with the perfect wedding suppliers. With our lively forums (where users are warmly referred to as 'wollies'), online wedding directory, competitions, real weddings and …
More Articles From This Author
14 Beautiful Dublin Wedding Venues to Suit Your Style
08/01/2017
If you're living in Dublin city or are open to a wedding in the capital, you'll find there's every type of venue imaginable on Dublin's doorstep with beautiful scenery, stunning architecture, incredible interiors, iconic landmarks, historic locations and amazing photo opportunities (some of...
Read More »